Placing trustworthy people in positions of trust
The relationship between the healthcare industry and the Federal Government is unlike any other place of employment. It is incredibly complex and highly regulated. Due to access to controlled narcotics, as well as the healthcare industry's participation in programs subsidized by government funding, it is imperative that healthcare workers be monitored by government agencies. Dismissal from participation in government programs can occur if you allow banned individuals to work within your organization.
In order to stay in good standing, partnering with SimpliVerified can give you the tools you need to meet these challenges. Our knowledge of compliance, expertise and technology allows us to help hospitals, clinics and medical staffing companies screen applicants and employees so you can make well-informed and safe decisions.
A FACIS® (Fraud and Abuse Control Information System) search identifies any wrong actions of individuals and entities in the health care field.

This includes information on disciplinary actions ranging from exclusions and debarments to letters of reprimand and probation. Our FACIS® search offers three options, ranging from the minimum federal requirements to a search inclusive of more than 800 sources in 50 states.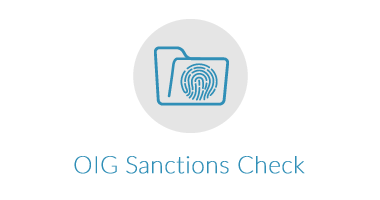 Protect your health care organization, patients and staff with this critical search. Find out which candidates are on the Office of the Inspector General's (OIG) sanctions list of individuals and entities excluded from Medicare, Medicaid and all federal health care programs. The search details if a candidate is on the exclusion list for one of the following reasons:
Program-related fraud (eg: Medicare/Medicaid)
Patient abuse
Licensing board action
Default on health education assistance loans
Many health care organizations choose to retrieve updated OIG reports annually or even twice a year, to ensure compliance and protect funds.
Organizations applying for a drug product approval must certify that they did not, and will not, use the services of a debarred person. The SimpliVerified FDA Debarment List Check can help organizations ensure compliance with these regulatory requirements. Benefits include:
Protect the public and preserve reputation
Verify candidate claims of industry worker eligibility
Protect your organization against fines
Control insurance costs
When a job calls for a specific type of license or certification, employers are bound by both business practice and regulatory compliance to confirm their candidates' licensure prior to placement.

InfoMart verifies professional licenses through the applicable licensing board. For licenses ranging from nursing to pilots, we confirm the date of certification, type of license, license status and expiration date, and/or the license number and renewal date.
Confirming professional licensing and certification directly through the licensing agency ensures you are hiring qualified individuals and offers protection from potential fraud or malpractice. A license verification not only validates the claimed professional license but also includes what state the license is held in, date issued, expiration date, current status, and any reported disciplinary actions.
FACIS Level 1 and 3
LEVEL 1: We search the Office of the Inspector General (OIG) and General Services Administration (GSA) and other federal sources. This search meets the government's minimum requirements as outlined in the OIG's Compliance Program Guidance.
LEVEL 3: We search OIG/GSA and other federal sources, in addition to over 800 sources from all 50 states. While this search exceeds minimum federal requirements, it offers full coverage for a high-level risk management policy.
Schedule an Appointment
Our team of healthcare specialists are ready to assist you with your employee screening needs. We would be happy to customize a screening solution that is the best fit for you.